W&M NDE Lab Videos for Prospective Students
<![if !vml]>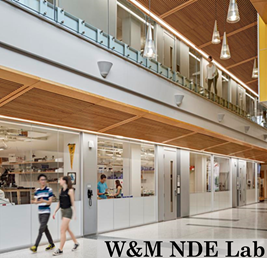 <![endif]>
We've recently recorded a number of videos talking about various projects in the W&M NDE Lab. They're typically less than a dozen minutes in length, and consist primarily of conversations about what we've been doing. You'll also find here links to related papers, books and dissertations where you can read more of the details for things that are of interest to you. Although we haven't edited these conversations other than cropping a bit and inserting some illustrative graphics and such, we tried to film them at a variety of places around campus so you can get a sense of where it is that we do our work. We've included LinkedIn links in each project so you can get a better idea of the career progressions of our students, something that we're very proud of.
<![if !vml]>

<![endif]>Machine learning for cognitive radio and 5G wireless. (Margaret Rooney)
<![if !vml]>

<![endif]>Lamb wave detection of oil under Arctic ice floes. (Elizabeth S. Simons)
<![if !vml]>

<![endif]>Smart container tracking with infrared catadioptric imaging. (Victor Trujillo II)
<![if !vml]>

<![endif]>Detection of deepfake videos by analyzing the corpus of utterances. (Ignatius B. Nowitall)
<![if !vml]>

<![endif]>Tweetstorm tracking using topic modeling and wavelet fingerprints. (Spencer Kirn)
<![if !vml]>

<![endif]>Wave characterization module for oil spill recovery. (Elizabeth S. Simons, Margaret Rooney)
<![if !vml]>

<![endif]>Ectobots: Sensor interpretation for autonomous vehicles. (Wendy Gao, William L. Fehlman II, Eric A. Dieckman)
<![if !vml]>

<![endif]>Helical Ultrasound Tomography: HUT. (Kevin Leonard, Kevin Rudd, Eugene Malyarenko)
<![if !vml]>

<![endif]>High-performance computing for IVHM. (Jill Bingham)
<![if !vml]>

<![endif]>Intelligent feature downselection in machine learning for NDE. (Corey Miller, Cara C.A. Leckey)
<![if !vml]>

<![endif]>Ultrasonic detection of cracks in teeth. (Crystal B. Acosta)
<![if !vml]>

<![endif]>Automatic detection of flaws in digitized recorded music. (Ryan Laney, Jonathan Stevens)
<![if !vml]>

<![endif]>UltraSonographic periodontal probe. (Ted Lynch, Crystal B. Acosta, James Hou)
<![if !vml]>

<![endif]>Ultrasonic bladder distention monitor. (Cara C.A. Leckey)
<![if !vml]>

<![endif]>Sonic Nets: Benign bird deterrence. (Elizabeth S. Simons)
<![if !vml]>

<![endif]>Roof fall warning system for coal mines. (Crystal B. Acosta, Jonathan Stevens)
<![if !vml]>

<![endif]>Thermographic measurement of colonial brick kiln firing. (Dan Reid)
<![if !vml]>

<![endif]>Automatic detection of delaminations in microchips. (Jonathan Stevens, Eric A. Dieckman)
<![if !vml]>

<![endif]>Thermographic evaluation of FeAl green sheet. (Mike Watkins)
<![if !vml]>

<![endif]>Non-linear Acoustic Concealed Weapons Detection. (Kevin Rudd)
<![if !vml]>

<![endif]>Wavelet fingerprint analysis of time-domain reflectometry signals. (Kevin Leonard)
<![if !vml]>

<![endif]>Sphere scattering applied to heart surgery and biofuels. (Alison Pouch, Ted Lynch, Cara Leckey)
Below are a few videos of interest to prospective students about our doctoral program.
<![if !vml]>

<![endif]>Advice for incoming students from APSC Business Manager. (Lydia Whitaker)
<![if !vml]>

<![endif]>Qualifying exam procedures in APSC. (Ethan Brewer)
<![if !vml]>

<![endif]>Makerspaces at W&M. (Jonathan Frey) and W&M's Entrepreneurship Center.
Here's a September 2020 video and a November 2020 update about things you should consider if you are applying for graduate school during the pandemic. Join President Katherine A. Rowe as she walks across campus and reflects on the impact of COVID-19 on the William & Mary community (2020). In this video William & Mary leaders reflect on how the university has overcome a multitude of obstacles over its 325+ year history. William & Mary's 327th academic year played out unlike any other as our community joined the national effort to overcome the challenges of COVID-19. We were delighted to welcome Maria Donoghue Velleca, an accomplished scholar and award-winning educator, as William & Mary's new dean of the Faculty of Arts & Sciences. Hark! Almost 300 W&M Choir and choral students and alumni voices swelling, strong and true and clear. Alma Mater's love they're telling, ringing far and near. Please enjoy, share, sing, rejoice in this recording, made to raise the voices of all those bound together by love for William & Mary. Hear the thunder of their chorus, Alma Mater - Hail! (2020).
Here are some old, but professionally produced, videos of a few of our projects back in the day: Science applied: A walk through the W&M lab; Meet the Innovators: John Swaddle & Mark Hinders; NASA Destination Tomorrow - DT2 - Ultrasonic Probe.
Here are some links to recent videos from W&M that give a sense of what it's like here at the Alma Mater of a Nation: William & Mary: A University for the Bold; The 2018-2019 Year In Review; 2019 Charter Day: Founded Looking Forward; W&M in 30: Homecoming 2018; W&M in :30 - 2019 Convocation; Opening Convocation 2019: The welcome walk; 2019 One Tribe One Day | Our Moments Connect Us As One; W&M in 30: 2019 Commencement; 2019 President's Report; An 18th-century tunnel: Draining the Wren; W&M in 30: Winter Wonderland; William and Mary by drone in 2015; For the Bold: The Campaign for William & Mary. W&M is immediately adjacent to the restored Colonial Williamsburg, so here are a few video links: WHAT'S NEW AT COLONIAL WILLIAMSBURG; Williamsburg Then and Now (no sound); Colonial Williamsburg From The Sky; TURN filmed at W&M; State designation of Werowocomoco as a protected easement. We also have long-standing ties with the NASA Langley Research Center in nearby Hampton, VA. Here you can find some of their Faces of Technology videos and here you can find Innovation Now videos produced by the National Institute of Aerospace and 2018 Honorary Degree recipient Katherine Johnson. Host of The Daily Show and W&M Alumnus Jon Stewart delivers the 2004 Commencement Address.
Feel free to contact me or any of our current and former students with questions about our research projects and/or the PhD program in Applied Science. These conversations are usually the first step in defining programs of study that best suit your professional goals. My contact information is:
Professor Mark Hinders
W&M Applied Science Dept.
Williamsburg, VA 23187-8795
Desk Phone: (757) 221-1519
E-mail: my-last-name@wm.edu
We generally encourage prospective students to visit campus and meet with faculty members and students. For information regarding a campus visit, please contact our Graduate Program Coordinator.